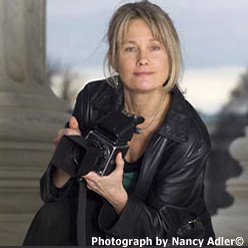 DANUTA OTFINOWSKI has been photographing people for over 2 decades. Her photographs have earned several awards and distinctions, and appeared in many publications including Time; BusinessWeek; People; Forbes; Bloomberg Magazine; EntertainmentWeekly; Focus; Stern and Der Spiegel. In addition to serving editorial clients, Otfinowski has produced images for corporations and associations and private individuals

I was a sculpture major at the San Francisco Art Institute when I walked into Henry Wessel's photography class. He was showing slides of work by Jacques-Henri Lartigue, Henri Cartier-Bresson, and Garry Winogrand. Before that moment, I thought photography was for geeks, left-brained types with big lenses and SLR's, but the pictures I saw that afternoon required a more intuitive kind of intelligence, the ability to anticipate a moment before it happened, and a state of mind that was both present and detached. This opened up a new realm of possibilities, and I soon got lost behind the world of a newly acquired range-finder camera. For the next few years I spent my days walking the streets of San Francisco and it's surrounding communities, learning the language of photography, and fine-tuning my sense of 'intuitive recognition'. My nights were spent developing film and editing stacks of contact sheets. My passion and hard work paid off. In the spring of 1977 four of my photographs were included in an exhibition at The Whitney Museum of American Art. In the show were my mentors: Robert Frank, Garry Winogrand, Lee Friedlander, Bruce Davidson, and Danny Lyon. The next ten years brought a major fellowship from The National Endowment for the Arts; inclusion in several major exhibitions; an MFA from the University of California, San Diego; and a move to New York City. Over the years my work has shifted from capturing moments in the public domain to careful collaborations between the photographer and the sitter. I believe that everyone has something in them thats unique and beautiful, and it is this essence that I look for and strive to bring to the surface. I have been on the East Coast for over 20 years photographing people for editorial, corporate and private clients, and currently live in Washington, DC.


Washington DC corporate and event photographer Danuta Otfinowski is an award-winning people photographer in the Washington D.C. metro area. Otfinowski shoots portraits, events, weddings, and feature stories for editorial, corporate, advertising and individual clients in the Washington metro area, including northern Virginia and Maryland.